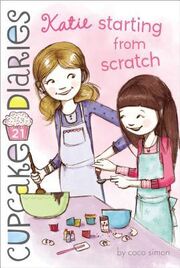 Katie Starting From Scratch is the 21th book in the Cupcake Diaries. Katie will be narrating in this book. This book was published in August 12 2014.
Book Description
Edit
When Katie brings her maybe-someday stepsister to Cupcake Club, she gets her first taste of sibling rivalry-and it's not very sweet!Katie's mom ask Katie for a huge favor:will she spend some time with Emily,her boyfriend's daughter? Katie agrees and brings Emily to a Cupcake Club meeting. Things go well-almost too well. Everyone likes Emily so much,Katie wonders if her friends like Emily more than they like her! And if her mom marries Emily's dad,will Emily become her favorite daughter? Katie is an only child,so all this sibling stuff is new to her. She's starting from scratch!
Ad blocker interference detected!
Wikia is a free-to-use site that makes money from advertising. We have a modified experience for viewers using ad blockers

Wikia is not accessible if you've made further modifications. Remove the custom ad blocker rule(s) and the page will load as expected.